EAP and COVID-19: Sharing the Vision: A mental Health Policy for Everyone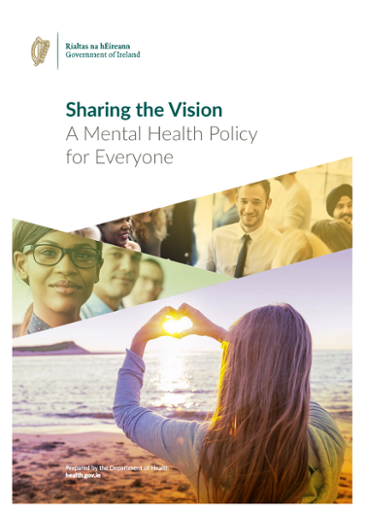 Name:
Sharing the Vision - 19th June ...
Size:
4.612Mb
Format:
PDF
Description:
Government Document
Publisher
Government of Ireland. Department of Health
Abstract
The publication of the Vision for Change mental health policy in 2006 set a high standard for the development of mental health policy in Ireland. As a result, there have been many important changes in the past decade aimed at improving people's health and wellbeing. In recent times, mental health has received much attention. The outbreak of COVID 19 throughout the world created significant stress, anxiety, worry and fear for many people. The disease itself was further compounded by other impacts such as social isolation, disruption to daily life, uncertainty about employment and financial security. The Government response was rapid and a wholeof-population plan was put in place to support healthcare staff and the general population by providing health and wellbeing advice, resilience based training and providing free online interventions such as counselling and crisis texting for all in need. Indeed, the ability to create additional online interventions to augment existing services with such a wide reach, has in many ways changed how we treat the mild to moderate mental health needs of the population. In many ways the pandemic assisted Ireland to improve public attitudes to mental health because of the statutory, voluntary and community commitment to raising awareness and creating positive changes in how Ireland thinks about and delivers mental health services.
Table of Contents
Table of Contents List of Abbreviations 6 Chapter 1 | Background and Context 11 Introduction 13 The refresh process 13 Oversight Group 13 Methodology 14 Framework 15 Core Values 16 The vision 16 Principles 17 Implementation 19 Chapter 2 | Promotion, Prevention and Early Intervention Domain 23 Introduction 24 Positive mental health and wellbeing 25 Mental health lifecycle 26 The Lifecycle Approach 26 Mental Health across the Lifecycle 27 Mental health, priority groups and stigma 29 Additional health promotion supports 30 Health Promotion Programmes 30 Voluntary and Community Sector 30 hapter 3 | Service Access, Coordination and Continuity of Care Domain 33 Introduction 34 Pathways to support 36 Primary Care 40 Integrated services 41 Community Mental Health Teams 44 Clinical leadership 45 Alternative Access Routes to Emergency Care 45 Specialist mental health services across the lifecycle 47 Child and adolescent mental health services 47 The 0–25 cohort 47 General adult mental health services (GAMHS) 48 Adult inpatient capacity and alternatives to inpatient admission 48 Mental health services for older people 50 Sharing the Vision | A Mental Health Policy for Everyone Tailored interventions 50 Forensic mental health services 50 Dual diagnosis 53 Mental health services for homeless people 54 Liaison mental health services 54 Specialist needs-based services 54 Intensive recovery support services (for individuals with complex mental health difficulties) 54 Mental health services for early intervention in psychosis 55 People with an intellectual disability 56 ADHD 56 Suicide prevention 56 Eating disorders 57 Specialist perinatal supports 57 Neuro-rehabilitation (including acquired brain injury) 57 Providing mental health services that recognise and respond to diversity 57 Access to advocacy 58 Chapter 4 | Social Inclusion Domain 65 Introduction 66 Equality of access 67 Housing supports 67 Employment supports 68 Training and vocational education supports 68 Income protection and social welfare 68 Peer-led, peer-run and community development projects 68Chapter 5 | Accountability and Continuous Improvement Domain 71 Introduction 72 Accountability and continuous improvement 73 Governance leadership and organisation 73 Patient Safety 74 Disadvantage and service planning 74 Physical infrastructure for mental health services 75 Measuring performance 75 Capturing and embedding innovation 75 Meeting standards in quality frameworks and best practice guidelines 76 Enablers 76 Safeguarding vulnerable people 78 Service users, self-harm and suicide 78 Involuntary detention Chapter 6 | Implementation 83 Introduction 84 National Implementation and Monitoring Committee 85 HSE Sharing the Vision structure 85 Implementation roadmap
Rights/Terms
Attribution-NonCommercial-NoDerivatives 4.0 International
The following license files are associated with this item:
Except where otherwise noted, this item's license is described as Attribution-NonCommercial-NoDerivatives 4.0 International