On the Bright Side: Standardized Patient Program Perseveres Throughout Pandemic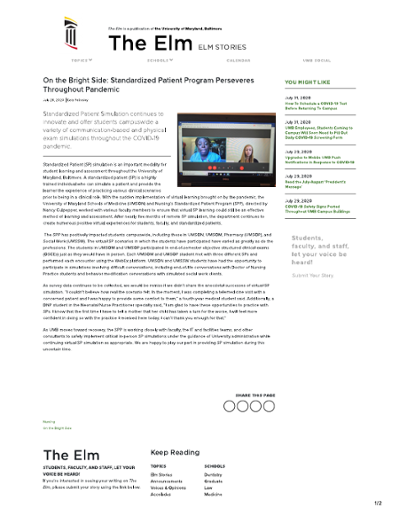 Name:
ELM Patient Program 07_28_2020.pdf
Size:
342.5Kb
Format:
PDF
Description:
PDF of Patient Simulation
Abstract
The article discusses, Sandardized Patient Simulation which continues to innovate and offer students campuswide a variety of communication-based and physical exam simulations throughout the COVID-19 pandemic.
Description
The COVID-19 crisis created many challenges, but it also inspired acts of amazing kindness among members of our UMB community. The Elm's On the Bright Side series uncovers and shares these stories.
Series/Report No.
On the Bright Side
Rights/Terms
Attribution-NonCommercial-NoDerivatives 4.0 International
Collections
The following license files are associated with this item:
Except where otherwise noted, this item's license is described as Attribution-NonCommercial-NoDerivatives 4.0 International