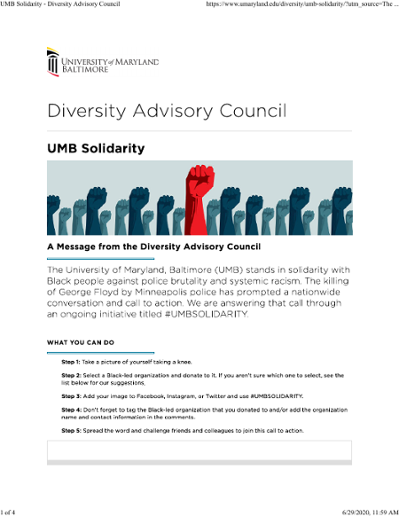 Name:
Diversity Advisory Council with ...
Size:
1.433Mb
Format:
PDF
Description:
PDF of UMBSolidarity Project
Abstract
The announcement of the University of Maryland, Diversity Advisory Council's #UMBSolidarity initiative in response to the death of George Floyd in Minneapolis, Minnesota.
Description
The article lists Black-led organizations in Baltimore and encourages readers to contribute to the one of their choice. It also includes photographs of four UMB campus members taking a knee in solidarity and a list of activities surrounding diversity.
Rights/Terms
Attribution-NonCommercial-NoDerivatives 4.0 International
Collections
The following license files are associated with this item:
Except where otherwise noted, this item's license is described as Attribution-NonCommercial-NoDerivatives 4.0 International