Using Technology to Collect Better Data on EAP Services: Webinar for the Workplace Collaborative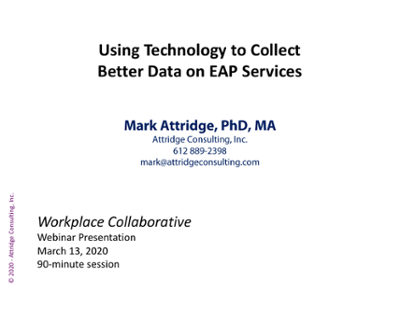 Name:
Attridge 2020MAR13 WorkplaceCo ...
Size:
3.970Mb
Format:
PDF
Description:
Slide deck with 38 slides.
Abstract
Recent trends in data analytics as applied to EAP business practices. Focus on using smart phone (existing apps) & website online tools and questionnaires for data collection and service enhancements. Move your client scheduling of appointments to online by your staff or even self-service. Add online or smart-phone based counseling by your staff or partners with counselors or even self-service machine tools (no counselor). Managing data coming into the EAP from various partners and customers – relational database best practices 101 and your reporting story.
Table of Contents
Part 1 - Data collection from individual EAP clients. Part 2 - Data collection from online treatment tools. Part 3 - Data collection from EAP business partners
Description
Webinar for members of the Workplace Collaborative.
Sponsors
The Workplace Collaborative. Attridge Consulting, Inc.