EAP and COVID-19: Social Work in the Workplace: Turning the Tables on Critical Conversations - University of Maryland, School of Social Work 2020 Homecoming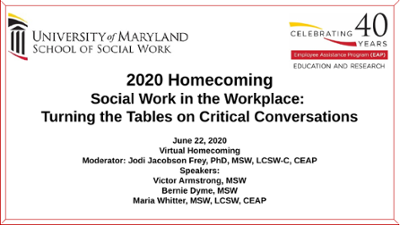 Name:
Homecoming PPT - EAP ONLY.pptx
Size:
8.828Mb
Format:
Microsoft PowerPoint 2007
Description:
Homecoming 2020 (UMSSW) Presen ...
Name:
Homecoming Goes Virtual - Monday ...
Size:
242.7Kb
Format:
PDF
Description:
Homecoming 2020 (UMSSW) Invitation ...
Other Titles
University of Maryland, School of Social Work Homecoming 2020
Social Work in the Workplace: Turning the Tables on Critical Conversations - University of Maryland, School of Social Work 2020 Homecoming
Abstract
On June 22, 2020, the University of Maryland, School of Social Work celebrated 40 years of Employee Assistance Education and Research with Homecoming 2020 (Virtual). The title of Homecoming was Social Work in the Workplace: Turning the Tables on Critical Conversations. Dr. Jodi Frey, Professor and Chair of the Social Work in the Workplace & Employee Assistance Sub-specialization moderated the event (see her video in this record) and three leading social work experts in the workplace presented on critical topics including workplace culture and wellbeing (Victor Armstrong, MSW), gender reveal - identity and expression in the workplace (Maria Whitter, MSW), and leadership during times of crisis (Bernie Dyme, MSW). All talks are available here in addition to a PowerPoint highlighting School of Social Work EAP alumni with photos and brief descriptions of how their education prepared them for the work they are doing today.
Sponsors
MASI Research Consultants, Inc., Open Minds, Morneau Shepell, and BHS
Related items
Showing items related by title, author, creator and subject.
Occupational social work: From social control to social assistance?

Csiernik, Rick (

Canadian Association of Social Workers

,

1996-09-12

)

The worksite is an important setting which impacts on the social, mental and physical well-being of the worker. A healthy workplace environment can induce many positive changes such as, a healthier workforce, increased morale, reduced absenteeism and, in turn, increased productivity. Conversely, an unhealthy and hazardous workplace can increase mortality and morbidity, lower the worker's quality of life, escalate health care costs.

Social Stability as a Consistent Measure of Social Context in a Low-Income Social Network

Moen, Marik; Johantgen, Mary E.; 0000-0001-8369-819X (

2018

)

Background: Increasingly, studies of factors influencing health consider the importance of social contexts in which people are living. The selection of indicators to represent this social context in health research can seem arbitrary. This study examines the potential of social stability as a useful construct to represent social context in these studies. Purpose: This study applied a previous definition of social stability (SS) in a new population and examined its relationship to syndemic risk behaviors (sexual, substance use, and violence). Aim 1 examined whether SS (as measured by German, 2009) can identify distinct subgroups while describing SS prevalence and patterns. Aim 2 assessed whether measures of perceived or historical stability are related to SS status, and whether they influence latent SS classes. Aim 3 explored how SS level and subgroup are associated with risk behaviors, while examining the co-occurrence of these syndemic behaviors. Methods: A secondary analysis of data of heterosexuals at high-risk of HIV infection from the Baltimore site of National HIV Behavioral Surveillance Study was conducted. Descriptive and latent class analyses (LCA) were applied to characterize the prevalence and patterns of SS and risk behaviors and to identify SS subgroups. Logistic and latent class regression were applied to model the relationships of SS to risk behaviors and demographic covariates. Results: SS was more prevalent than expected, and co-occurrence of SS indicators was common in this population. LCA showed evidence for 3 sub-classes: high stability, residential instability, and income, employment instability. Perception or history of stability did not contribute to identifying latent classes. Education was an influential covariate in LCA. Co-occurrence and significant associations among risk behaviors are also common in the population. Ordinal and latent measurements of SS reliably predicted individual and combinations of sexual-substance use- and-violence risks. Relationships vary with the method of SS specification with stronger magnitude of odds of risk associated with the latent approach. Conclusion: Social stability well represented certain aspects of the social context in a new study population and demonstrated an influential relationship with syndemic risks. Consistent measures of SS should be considered for application in research including social conditions and health.