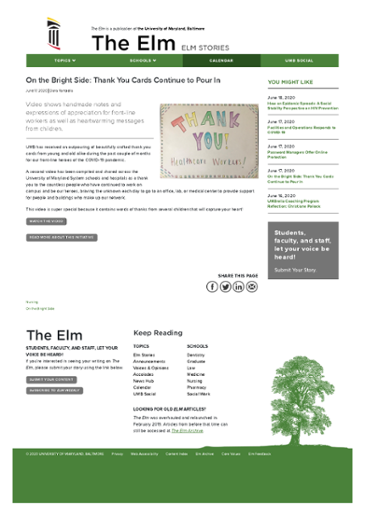 Name:
ELM Thank You Cards 06_17_2020.pdf
Size:
2.350Mb
Format:
PDF
Description:
PDF of Thank You Cards 2
Type
Article
Personal Narrative
Abstract
The article describes a project at the University of Maryland, Baltimore to collect and distribute virtual thank you cards to essential workers at the University and the University of Maryland Medical Center.
Description
The COVID-19 crisis created many challenges, but it also inspired acts of amazing kindness among members of our UMB community. The Elm's On the Bright Side series uncovers and shares these stories.
The Thank You cards are created and scanned to be emailed directly to essential workers around UMB and UMMC. Cards are created by all ages and reflect the appreciation felt by the community for these employees. Included are links to photo gallery and video montage.
Series/Report No.
On the Bright Side
Rights/Terms
Attribution-NonCommercial-NoDerivatives 4.0 International
Embedded videos
Collections
The following license files are associated with this item:
Except where otherwise noted, this item's license is described as Attribution-NonCommercial-NoDerivatives 4.0 International