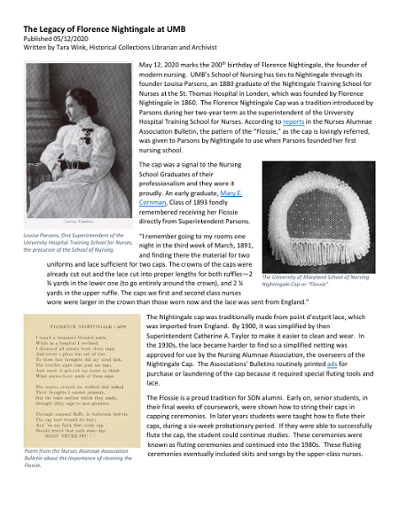 Name:
Flossie_NightingaleLegacy_2020.pdf
Size:
1.151Mb
Format:
PDF
Description:
PDF of Nightingale Legacy at UMB
Abstract
The blog post outlines the history of the "Flossie" Nursing Cap tradition at the University of Maryland School of Nursing.
Description
Content written for the HS/HSL News, a blog for the Health Sciences and Human Services Library at the University of Maryland, Baltimore (UMB).
May 12, 2020 marks the 200th birthday of Florence Nightingale, the founder of modern nursing. UMB's School of Nursing has ties to Nightingale through its founder Louisa Parsons, an 1880 graduate of the Nightingale Training School for Nurses at the St. Thomas Hospital in London, which was founded by Florence Nightingale in 1860. The Florence Nightingale Cap was a tradition introduced by Parsons during her two-year term as the superintendent of the University Hospital Training School for Nurses.
Rights/Terms
Attribution-NonCommercial-ShareAlike 4.0 International
Collections
The following license files are associated with this item:
Except where otherwise noted, this item's license is described as Attribution-NonCommercial-ShareAlike 4.0 International