How to Calculate the ROI for EAP Counseling from Improvements in Work Outcomes: Part 2 of Series with Global Data from the Workplace Outcome Suite© by Morneau Shepell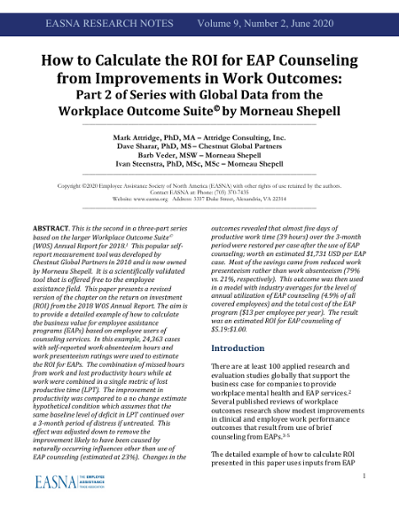 Name:
EASNA Research Notes Vol 9 No 2 ...
Size:
394.8Kb
Format:
PDF
Description:
Research Article
Publisher
Employee Assistance Society of North America
Abstract
This is the second in a three-part series based on the larger Workplace Outcome Suite© (WOS) Annual Report for 2018.1 This popular self- report measurement tool was developed by Chestnut Global Partners in 2010 and is now owned by Morneau Shepell. It is a scientifically validated tool that is offered free to the employee assistance field. This paper presents a revised version of the chapter on the return on investment (ROI) from the 2018 WOS Annual Report. The aim is to provide a detailed example of how to calculate the business value for employee assistance programs (EAPs) based on employee users of counseling services. In this example, 24,363 cases with self-reported work absenteeism hours and work presenteeism ratings were used to estimate the ROI for EAPs. The combination of missed hours from work and lost productivity hours while at work were combined in a single metric of lost productive time (LPT). The improvement in productivity was compared to a no change estimate hypothetical condition which assumes that the same baseline level of deficit in LPT continued over a 3-month period of distress if untreated. This effect was adjusted down to remove the improvement likely to have been caused by naturally occurring influences other than use of EAP counseling (estimated at 23%). Changes in the outcomes revealed that almost five days of productive work time (39 hours) over the 3-month period were restored per case after the use of EAP counseling; worth an estimated $1,731 USD per EAP case. Most of the savings came from reduced work presenteeism rather than work absenteeism (79% vs. 21%, respectively). This outcome was then used in a model with industry averages for the level of annual utilization of EAP counseling (4.9% of all covered employees) and the total cost of the EAP program ($13 per employee per year). The result was an estimated ROI for EAP counseling of $5.19:$1.00.
Description
Research article
Citation
Attridge, M., Sharar, D., Veder, B., & Steenstra, I. (2020). How to calculate the ROI for EAP counseling from improvements in work outcomes: Part 2 of series with global data from the Workplace Outcome Suite© by Morneau Shepell EASNA. Research Notes, Vol. 9, No. 2.
Series/Report No.
EASNA Research Notes;Volume 9 - Number 2
Sponsors
Employee Assistance Society of North America
Rights/Terms
Attribution-NonCommercial-NoDerivatives 4.0 International
The following license files are associated with this item:
Except where otherwise noted, this item's license is described as Attribution-NonCommercial-NoDerivatives 4.0 International