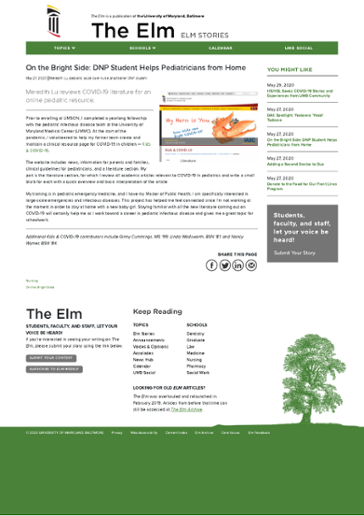 Name:
ELM DNP Students 05_27_2020.pdf
Size:
653.5Kb
Format:
PDF
Description:
PDF of Pediatrics and COVID-19 ...
Type
Personal Narrative
Article
Abstract
The article describes the work of Meredith Lu, pediatric acute care nurse practitioner (DNP) student, to educate children in COVID-19.
Description
The COVID-19 crisis created many challenges, but it also inspired acts of amazing kindness among members of our UMB community. The Elm's On the Bright Side series uncovers and shares these stories.
Meredith Lu has created a website with news, information for parents and families, as well as guidelines for pediatricians on the COVID-19 virus in children. Lu has worked with the pediatric infectious disease team at the University of Maryland Medical Center.
Series/Report No.
On the Bright Side
Rights/Terms
Attribution-NonCommercial-NoDerivatives 4.0 International
Collections
The following license files are associated with this item:
Except where otherwise noted, this item's license is described as Attribution-NonCommercial-NoDerivatives 4.0 International