Connections: emergency preparedness for librarians and emergency management personnel in Maryland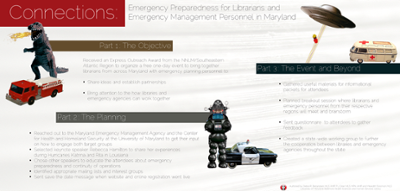 Name:
debposterwork22511printing2.pdf
Size:
13.95Mb
Format:
PDF
Description:
Emergency Preparedness 2010 MAC ...
Abstract
This poster describes a one-day event hosted by the University of Maryland Health Sciences and Human Services Library to bring together librarians from across Maryland with emergency planning personnel to share ideas, establish partnerships, and bring attention to how libraries and emergency agencies can work together in an emergency situation.
Description
This poster was presented at the Mid-Atlantic Chapter of the Medical Library Association(MAC-MLA) Meeting October 2010, and at the Medical Library Association (MLA) Annual Meeting in May 2011.
Sponsors
HSHSL received an Express Outreach Award from the NNLM/Southeastern Atlantic Region for the organization of this event.
Collections
The following license files are associated with this item:
Except where otherwise noted, this item's license is described as https://creativecommons.org/licenses/by-nc-nd/4.0/