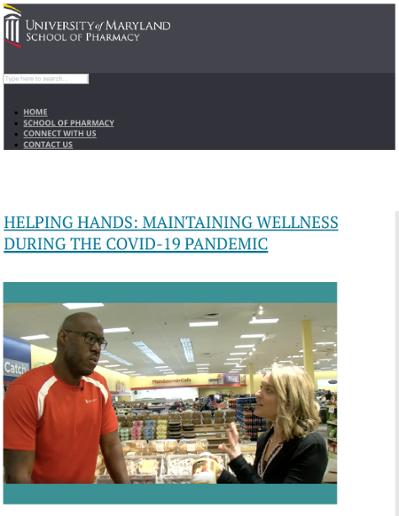 Name:
SOP Maintaining Wellness 05_08 ...
Size:
450.6Kb
Format:
PDF
Description:
PDF of Wellness Program
Journal
Inside SOP: The University of Maryland School of Pharmacy's Blog
Publisher
University of Maryland, School of Pharmacy
Type
Blog
Personal Narrative
Abstract
The post describes a partnership between the School of Pharmacy's PATIENTS Program and Amy Abel Wellness to educate the community via Facebook on the importance of healthy eating and exercise during the COVID-19 pandemic.
Description
This piece was part of a series of Helping Hands stories authored by School of Pharmacy faculty, staff, students, trainees, and alumni who stepped up to assist their family and friends, colleagues, and communities during the COVID-19 pandemic.
The piece describes the goals of the PATIENTS Program.
Series/Report No.
Helping Hands
Rights/Terms
Attribution-NonCommercial-NoDerivatives 4.0 International
Collections
The following license files are associated with this item:
Except where otherwise noted, this item's license is described as Attribution-NonCommercial-NoDerivatives 4.0 International