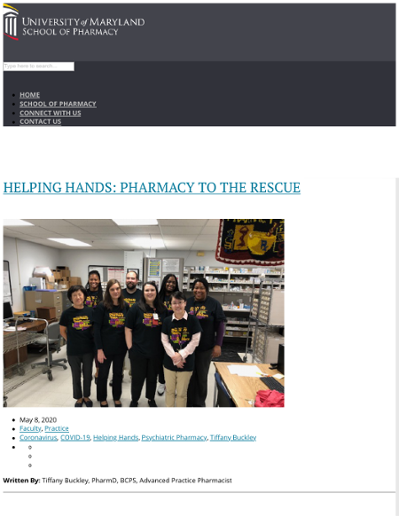 Name:
SOP Pharmacy to the Rescue_05_ ...
Size:
1.146Mb
Format:
PDF
Description:
PDF of Clifton T. Perkins Pharmacy
Journal
Inside SOP: The University of Maryland School of Pharmacy's Blog
Publisher
University of Maryland, Baltimore. School of Pharmacy
Type
Blog
Personal Narrative
Abstract
The post describes the work of the staff at the Clifton T. Perkins Hospital Pharmacy to lend a hand during the COVID-19 Pandemic.
Description
This piece was part of a series of Helping Hands stories authored by School of Pharmacy faculty, staff, students, trainees, and alumni who stepped up to assist their family and friends, colleagues, and communities during the COVID-19 pandemic.
The pharmacy staff at Clifton T. Perkins have gone above the call of duty to help the hospital run smoothly during the COVID-19 Pandemic by delivering food, controlling infection, and sewing masks, while continuing the duties of the pharmacy.
Series/Report No.
Helping Hands
Rights/Terms
Attribution-NonCommercial-NoDerivatives 4.0 International
Collections
The following license files are associated with this item:
Except where otherwise noted, this item's license is described as Attribution-NonCommercial-NoDerivatives 4.0 International