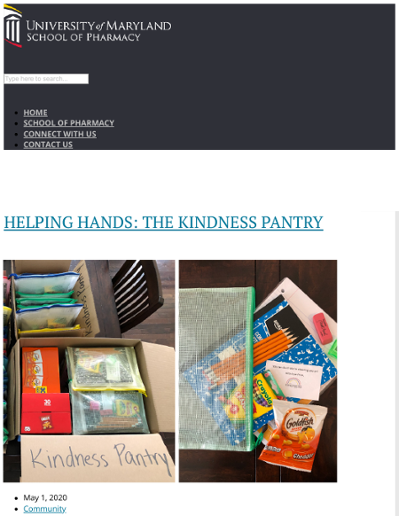 Name:
SOP Kindness Pantry 05_01_2020.pdf
Size:
704.8Kb
Format:
PDF
Description:
PDF of Kindness Pantry
Journal
Inside SOP: The University of Maryland School of Pharmacy's Blog
Publisher
University of Maryland, Baltimore. School of Pharmacy
Type
Blog
Personal Narrative
Abstract
Ashleigh Lowery, School of Pharmacy Alumnus (PharmD 2011) and co-founder of The Kindness Pantry, describes the shift of the project's focus from sending supplies to Howard County Schools to creating kits filled with essential school supplies and snacks to students in need during the COVID-19 crisis.
Description
This piece was part of a series of Helping Hands stories authored by School of Pharmacy faculty, staff, students, trainees, and alumni who stepped up to assist their family and friends, colleagues, and communities during the COVID-19 pandemic.
The Kindness Pantry project supports teachers and students in schools in Howard County, Maryland, by creating Amazon Wishlists of supplies. The project switched gears during the COVID-19 Pandemic to create kits for distribution at schools for families in need of school supplies and snacks.
Series/Report No.
Helping Hands
Rights/Terms
Attribution-NonCommercial-NoDerivatives 4.0 International
Collections
The following license files are associated with this item:
Except where otherwise noted, this item's license is described as Attribution-NonCommercial-NoDerivatives 4.0 International