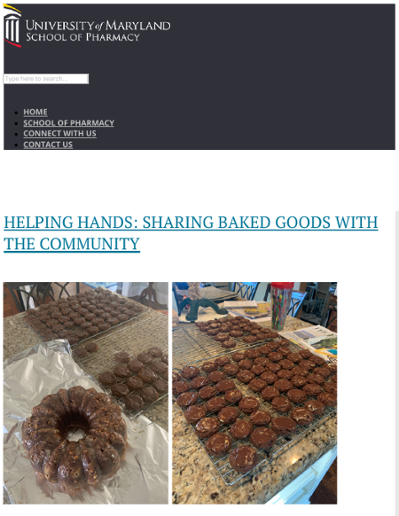 Name:
SOP Baked Goods 04_09_2020.pdf
Size:
724.7Kb
Format:
PDF
Description:
PDF of Baked Goods for Essential ...
Journal
Inside SOP: The University of Maryland School of Pharmacy's Blog
Publisher
University of Maryland, Baltimore. School of Pharmacy
Type
Blog
Personal Narrative
Abstract
Colleen Day, Graduate Program Manager for the Department of Pharmaceutical Health Services Research, shares baked goods with local essential employees as a token of appreciation for their work during the COVID-19 Crisis.
Description
This piece was part of a series of Helping Hands stories authored by School of Pharmacy faculty, staff, students, trainees, and alumni who stepped up to assist their family and friends, colleagues, and communities during the COVID-19 pandemic.
Brief blog post about a staff member of the School of Pharmacy baking treats for local essential employees during COVID-19.
Series/Report No.
Helping Hands
Rights/Terms
Attribution-NonCommercial-NoDerivatives 4.0 International
Collections
The following license files are associated with this item:
Except where otherwise noted, this item's license is described as Attribution-NonCommercial-NoDerivatives 4.0 International