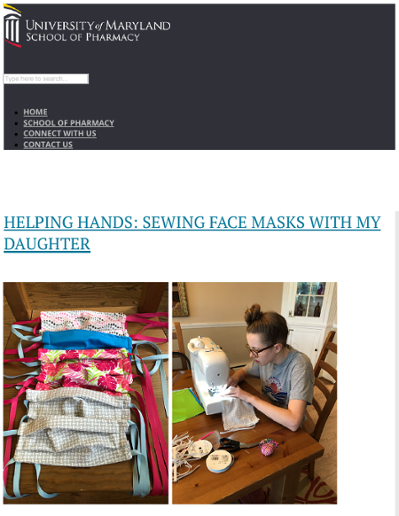 Name:
SOP Face Masks 04_01_2020.pdf
Size:
1.706Mb
Format:
PDF
Description:
PDF of Face Mask Sewing
Journal
Inside SOP: The University of Maryland School of Pharmacy's Blog
Publisher
University of Maryland, Baltimore. School of Pharmacy
Type
Blog
Personal Narrative
Abstract
The piece describes the work of Becky Ceraul, Assistant Dean for Communications and Marketing at the School of Pharmacy, and her 13-year-old daughter, Maddie, to sew masks at home during the COVID-19 Pandemic.
Description
This piece was part of a series of Helping Hands stories authored by School of Pharmacy faculty, staff, students, trainees, and alumni who stepped up to assist their family and friends, colleagues, and communities during the COVID-19 pandemic.
As a distraction from the COVID-19 crisis, Becky Ceraul and her daughter Maddie, sew masks for health care worker friends and to donate to the University of Maryland Medical Center (UMMC).
Series/Report No.
Helping Hands
Rights/Terms
Attribution-NonCommercial-NoDerivatives 4.0 International
Collections
The following license files are associated with this item:
Except where otherwise noted, this item's license is described as Attribution-NonCommercial-NoDerivatives 4.0 International