On the Bright Side: Virtual Dance Parties Promote Health, Charity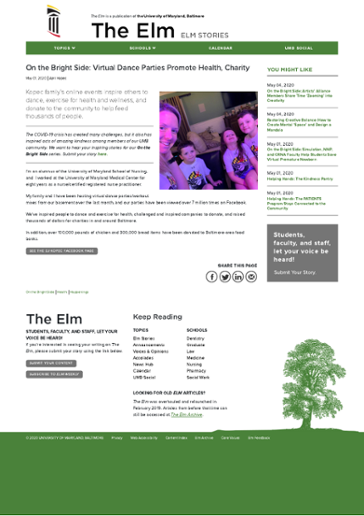 Name:
ELM Virtual Dance Party 05_01_ ...
Size:
1.968Mb
Format:
PDF
Description:
PDF of Virtual Dance Party
Type
Article
Personal Narrative
Abstract
The article describes the work of the Kopec family through online events to inspire others to dance, exercise for health and wellness, and donate to the community to help feed thousands of people.
Description
The COVID-19 crisis created many challenges, but it also inspired acts of amazing kindness among members of our UMB community. The Elm's On the Bright Side series uncovers and shares these stories.
DJ Kopec and his family have been hosting virtual dance parties and workouts through Facebook to inspire people to exercise and dance. Some videos have included challenges to viewers to donate to charities in Baltimore. April Kopec is a School of Nursing alumnus and worked for the University of Maryland Medical Center for 8 years.
Series/Report No.
On the Bright Side
Rights/Terms
Attribution-NonCommercial-NoDerivatives 4.0 International
Collections
The following license files are associated with this item:
Except where otherwise noted, this item's license is described as Attribution-NonCommercial-NoDerivatives 4.0 International