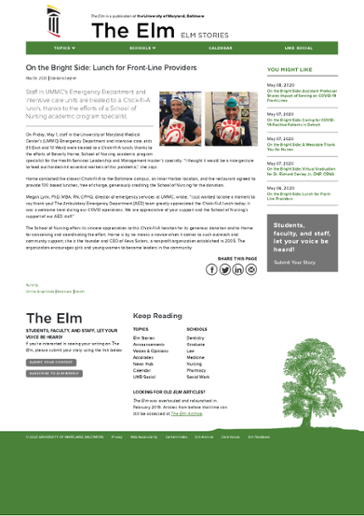 Name:
ELM Lunch_05_06_2020.pdf
Size:
386.0Kb
Format:
PDF
Description:
PDF of Thank You Lunch to UMMC
Type
Article
Personal Narrative
Abstract
Staff in UMMC's emergency department and intensive care units were treated to a Chick-fil-A lunch, thanks to the efforts of a School of Nursing academic program specialist, Beverly Horne.
Description
The COVID-19 crisis created many challenges, but it also inspired acts of amazing kindness among members of our UMB community. The Elm's On the Bright Side series uncovers and shares these stories.
Article discusses a gift by Beverly Horne, School of Nursing academic program specialist for the Health Services Leadership and Management master's specialty, to the staff in the University of Maryland Medical Center's Emergency and ICU departments. Horne donated lunch from Chick-fil-A as a thank you to these workers during the COVID-19 Crisis.
Series/Report No.
On the Bright Side
Rights/Terms
Attribution-NonCommercial-NoDerivatives 4.0 International
Collections
The following license files are associated with this item:
Except where otherwise noted, this item's license is described as Attribution-NonCommercial-NoDerivatives 4.0 International