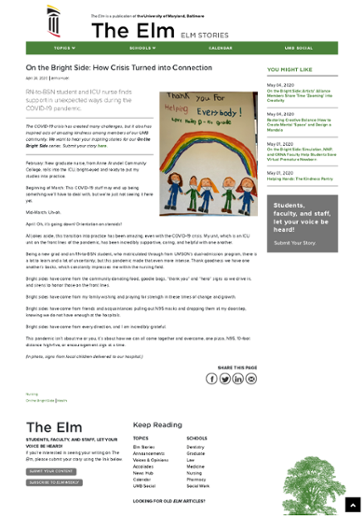 Name:
ELM Connection 04_24_2020.pdf
Size:
1.480Mb
Format:
PDF
Description:
PDF of Jenna Hulet Personal ...
Type
Article
Personal Narrative
Abstract
Reflection article on the support being experienced by nurses fighting the COVID-19 Pandemic.
Description
The COVID-19 crisis created many challenges, but it also inspired acts of amazing kindness among members of our UMB community. The Elm's On the Bright Side series uncovers and shares these stories.
Jenna Hulet, is a new graduate and experiencing the COVID-19 pandemic in an ICU. In this personal narrative, she reflects on the support she is receiving from colleagues, family, friends, and strangers through the COVID-19 crisis.
Series/Report No.
On the Bright Side
Rights/Terms
Attribution-NonCommercial-NoDerivatives 4.0 International
Collections
The following license files are associated with this item:
Except where otherwise noted, this item's license is described as Attribution-NonCommercial-NoDerivatives 4.0 International