On the Bright Side: Artists' Alliance Members Share Time 'Zooming' into Creativity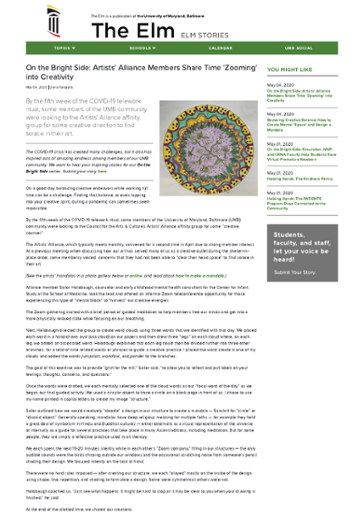 Name:
ELM Artists Alliance 05_04_2020.pdf
Size:
1.310Mb
Format:
PDF
Description:
PDF of Artists' Alliance Zoom ...
Publisher
University of Maryland, Baltimore
Type
Article
Personal Narrative
Abstract
By the fifth week of the COVID-19 telework ritual, some members of the University of Maryland, Baltimore (UMB) community were looking to the Council for the Arts & Culture's Artists' Alliance affinity group for some "creative counsel." This article describes the Artists' Alliance zoom meeting to find creativity during the COVID-19 Pandemic.
Description
The COVID-19 crisis created many challenges, but it also inspired acts of amazing kindness among members of our UMB community. The Elm's On the Bright Side series uncovers and shares these stories.
The article discusses a Zoom meeting of the UMB Artists' Alliance lead by Sailor Holobaugh, counselor and early childhood mental health consultant for the Center for Infant Study at the School of Medicine. The meeting was meant to inspire creativity among the Alliance members in order to relieve some of the anxiety and stress caused by the COVID-19 pandemic. Members created word clouds and mandala's during the virtual meeting.
Series/Report No.
On the Bright Side
Collections