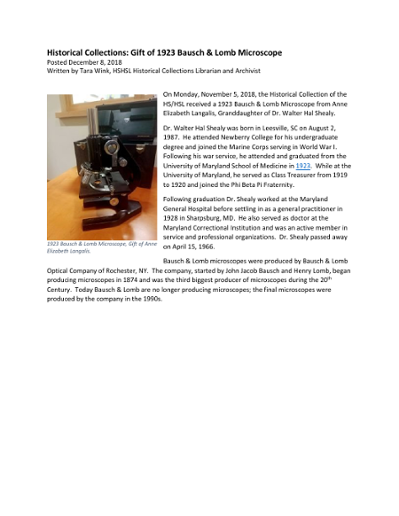 Name:
MicroscopeDonation_2018.pdf
Size:
121.0Kb
Format:
PDF
Description:
PDF of Microscop Gift 2018
Abstract
On Monday, November 5, 2018, the Historical Collection of the HS/HSL received a 1923 Bausch & Lomb Microscope from Anne Elizabeth Langalis, Granddaughter of Dr. Walter Hal Shealy. Dr. Walter Hal Shealy graduated from the University of Maryland School of Medicine in 1923.
Description
Content written for the HS/HSL News, a blog for the Health Sciences and Human Services Library at the University of Maryland, Baltimore (UMB). The post outlines biographical information on Dr. Walter Hal Shealy and information on the Bausch & Lomb company.
Rights/Terms
Attribution-NonCommercial-ShareAlike 4.0 International
Collections
The following license files are associated with this item:
Except where otherwise noted, this item's license is described as Attribution-NonCommercial-ShareAlike 4.0 International