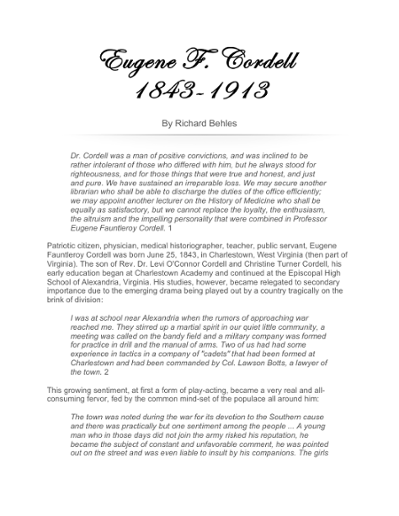 Name:
Cordell_Behles.pdf
Size:
565.3Kb
Format:
PDF
Description:
PDF of Dr. Cordell Biography
Abstract
Patriotic citizen, physician, medical historiographer, teacher, public servant, Eugene Fauntleroy Cordell was born June 25, 1843, in Charlestown, West Virginia (then part of Virginia). Before attending the University of Maryland School of Medicine and graduating in 1868, Cordell served in the Confederate Army. Dr. Cordell was a practicing physician, medical journal editor, and educator in Baltimore.
Description
This biography was originally written for the Historical Collections Department website. It describes Dr. Cordells life and professional career.
Collections