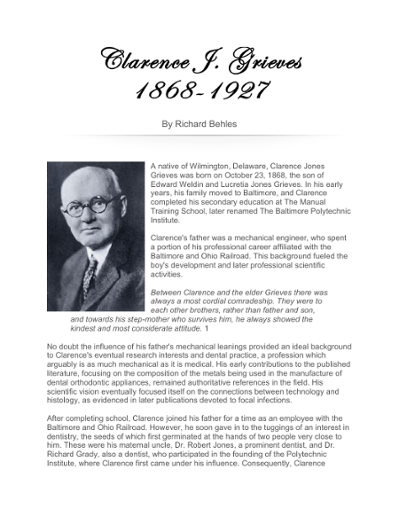 Name:
Grieves_Behles.pdf
Size:
396.1Kb
Format:
PDF
Description:
PDF of Dr. Grieves Biography
Abstract
Dr. Clarence J. Grieves graduated from the University of Maryland School of Medicine Dental Department in 1888 and immediately became an instructor with the school. He was also active with the Maryland Dental Association and later accepted a professorship with the Baltimore College of Dental Surgery, a post he held until joining the Naval Reserve Force during World War I. Dr. Grieves was an influential dentist in Maryland and was honored with the founding of the Clarence J. Grieves Library Foundation in 1925.
Description
This biography was orginially written for the Historical Collections Department website. It highlights the life and career as well as the substantial influence of Dr. Clarence J. Grieves.
Collections