Dr. Maureen Henderson, First Woman Chair of the Department of Preventive Medicine, 1971-1975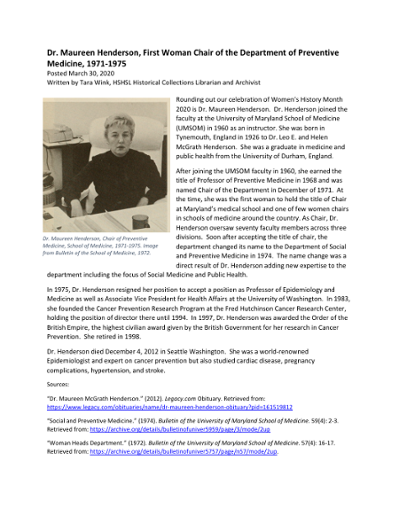 Name:
MHenderson_WHM_2020.pdf
Size:
228.5Kb
Format:
PDF
Description:
PDF of Maureen Henderson Post
Abstract
Dr. Henderson joined the faculty at the University of Maryland School of Medicine (UMSOM) in 1960 as an instructor. After joining the UMSOM faculty in 1960, she earned the title of Professor of Preventive Medicine in 1968 and was named Chair of the Department in December of 1971. At the time, she was the first woman to hold the title of Chair at Maryland's medical school and one of few women chairs in schools of medicine around the country.
Description
Content written for the HS/HSL News, a blog for the Health Sciences and Human Services Library at the University of Maryland, Baltimore (UMB). It was the final post in a series of posts celebrating Women's History Month, March 2020. It discusses Dr. Maureen Henderson's life, service as the School of Medicine's chair of the Preventive Medicine department, and career after the University of Maryland.
Rights/Terms
Attribution-NonCommercial-ShareAlike 4.0 International
Collections
The following license files are associated with this item:
Except where otherwise noted, this item's license is described as Attribution-NonCommercial-ShareAlike 4.0 International