Esther E. McCready, First African American Graduate from the School of Nursing, Class of 1953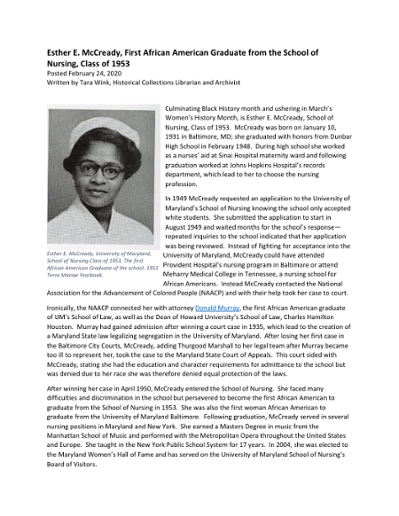 Name:
EMcCready_BHM_2020.pdf
Size:
231.4Kb
Format:
PDF
Description:
PDF of Esther McCready Post
Abstract
Esther E. McCready, University of Maryland, School of Nursing Class of 1953, after winning a court battle, became the first African American graduate of the school.
Description
Content written for the HS/HSL News, a blog for the Health Sciences and Human Services Library at the University of Maryland, Baltimore (UMB). The blog was the final post in a series of blog entries honoring African Americans at UMB during Black History Month 2020. The post also ushered in Women's History Month, 2020. The post discusses Esther E. McCready's fight to attend the University of Maryland during desegregation in the 1950s. It also discusses her career following graduation.
Rights/Terms
Attribution-NonCommercial-ShareAlike 4.0 International
Collections
The following license files are associated with this item:
Except where otherwise noted, this item's license is described as Attribution-NonCommercial-ShareAlike 4.0 International