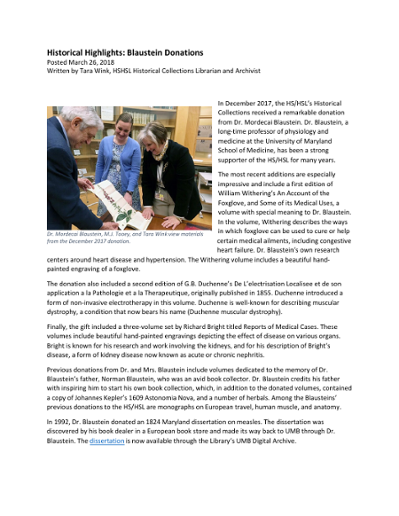 Name:
BlausteinDonation_2018.pdf
Size:
168.6Kb
Format:
PDF
Description:
PDF of Dr. Blausten Donation Post
Abstract
In December 2017, the HS/HSL's Historical Collections received a remarkable donation from Dr. Mordecai Blaustein. Dr. Blaustein, a long-time professor of physiology and medicine at the University of Maryland School of Medicine, has been a strong supporter of the HS/HSL for many years.
Description
Content written for the HS/HSL News, a blog for the Health Sciences and Human Services Library at the University of Maryland, Baltimore (UMB). The Post describes Dr. Mordecai and Mrs. Ellen Blaustein's December 2017 donations to the library, which included a first edition of William Withering's, An Account of the Foxglove.
Rights/Terms
Attribution-NonCommercial-ShareAlike 4.0 International
Collections
The following license files are associated with this item:
Except where otherwise noted, this item's license is described as Attribution-NonCommercial-ShareAlike 4.0 International