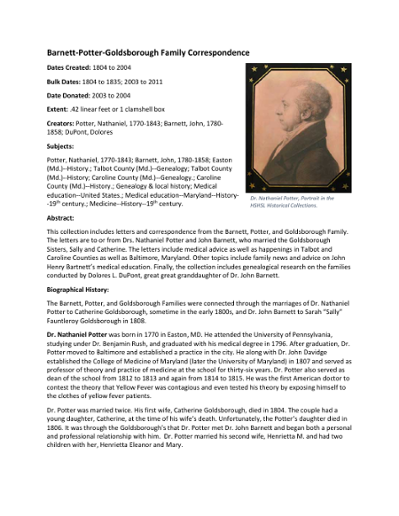 Name:
Barnett_Potter Correspondence.pdf
Size:
147.8Kb
Format:
PDF
Description:
PDF of Barnett-Potter-Goldsborough ...
Abstract
This finding aid describes the Barnett-Potter-Goldsborough Family Correspondence. This collection includes letters and correspondence from the Barnett, Potter, and Goldsborough Family. The letters are to or from Drs. Nathaniel Potter and John Barnett, who married the Goldsborough Sisters, Sally and Catherine. The letters include medical advice as well as happenings in Talbot and Caroline Counties as well as Baltimore, Maryland. Other topics include family news and advice on John Henry Bartnett's medical education. Finally, the collection includes genealogical research on the families conducted by Dolores L. DuPont, great great granddaughter of Dr. John Barnett.
Description
Collection donated by Dolores DuPont in 2003.
Letter dated March 1, 1806 donated by Dr. Michael R. Barnett in 2003.
Letters dated 1804-1807 and 1835.
Collection located in Historical Collections of the Health Sciences and Human Services Library, University of Maryland, Baltimore.
Rights/Terms
Attribution-NonCommercial 4.0 International
Collections
The following license files are associated with this item:
Except where otherwise noted, this item's license is described as Attribution-NonCommercial 4.0 International