| | | |
| --- | --- | --- |
| dc.date.accessioned | 2019-10-22T14:09:15Z | |
| dc.date.available | 2019-10-22T14:09:15Z | |
| dc.identifier.uri | http://hdl.handle.net/10713/11191 | |
| dc.language.iso | en_US | en_US |
| dc.subject | University of Maryland, Baltimore. Center to Advance Chronic Pain Research | en_US |
| dc.subject | Center to Advance Chronic Pain Research | en_US |
| dc.subject.mesh | Chronic Pain | en_US |
| dc.title | CACPR and Chronic Pain: Quick Facts | en_US |
| dc.title.alternative | Center to Advance Chronic Pain Research and Chronic Pain: Quick Facts | en_US |
| dc.type | Brochure/Program | en_US |
| refterms.dateFOA | 2019-10-22T14:09:16Z | |

Files in this item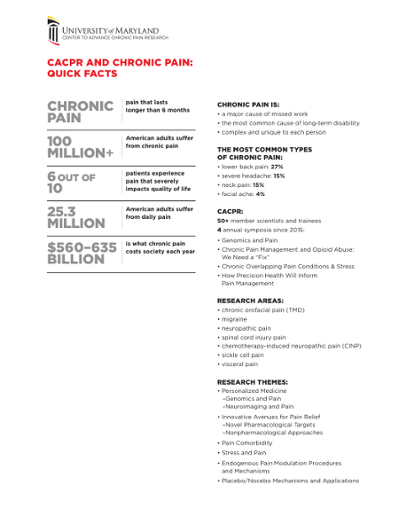 Name:
CACPR_QUICKFACTS.pdf
Size:
85.86Kb
Format:
PDF
This item appears in the following Collection(s)
Related items
Showing items related by title, author, creator and subject.
An in vitro model yields 'importin' new insights into chronic traumatic encephalopathy: damaged astrocytes stop 'thrombospondin' to the injury An Editorial Highlight for 'Defective synthesis and release of astrocytic thrombospondin‐1 mediates the neuronal TDP‐43 proteinopathy, resulting in defects in neuronal integrity associated with chronic traumatic encephalopathy: in vitro studies'

Jaber, S.M.; Polster, B.M. (

Blackwell Publishing Ltd

,

2017

)

This Editorial highlights a study by Jayakumar and colleagues (2016) in the current issue of Journal of Neurochemistry. The authors introduce an in vitro model of chronic traumatic encephalopathy (CTE) to explore the mechanistic underpinnings of CTE pathogenesis, including investigation of how traumatized astrocytes affect traumatized neurons through the release of secreted factors. The model recapitulates two key features of the human post-mortem CTE brain: neuronal tauopathy and TDP-43 proteinopathy—the respective accretion of hyperphosphorylated tau and cytoplasmic hyperphosphorylated and ubiquitinated TDP-43. Oxidative stress and casein kinase 1 episilon (CK1ε) are identified as key upstream regulators of cytoplasmic TDP-43 phosphorylation, and this phosphorylation is found to correlate with decreased importin-β protein level and a decline in synaptic integrity. RNA silencing of importin-β is sufficient to mimic both the phospho-TDP-43 accumulation and synaptic injury observed after mild in vitro trauma. Strikingly, Jayakumar et al. find that thrombospondin-1 (TSP-1), a protein secreted by traumatized astrocytes at elevated levels during the initial 5 days after damage, can attenuate CK1ε phosphorylation of TDP-43 and synaptic injury. However, TSP-1 secretion by astrocytes is lost at 10–15 days post-injury, and neurons succumb to unchecked TDP-43 pathogenesis.

Cardiac Biomarkers and Risk of Incident Heart Failure in Chronic Kidney Disease: The CRIC (Chronic Renal Insufficiency Cohort) Study

Christenson, R.; Seliger, S.; CRIC Study Investigators (

American Heart Association

,

2019

)

Background Cardiac biomarkers may signal mechanistic pathways involved in heart failure (HF), a leading complication in chronic kidney disease. We tested the associations of NT-proBNP (N-terminal pro-B-type natriuretic peptide), high-sensitivity troponin T (hsTnT), galectin-3, growth differentiation factor-15 (GDF-15), and soluble ST2 (sST2) with incident HF in chronic kidney disease. Methods and Results We examined adults with chronic kidney disease enrolled in a prospective, multicenter study. All biomarkers were measured at baseline. The primary outcome was incident HF. Secondary outcomes included HF with preserved ejection fraction (EF?50%) and reduced ejection fraction (EF<50%). Cox models were used to test the association of each cardiac biomarker with HF, adjusting for demographics, kidney function, cardiovascular risk factors, and medication use. Among 3314 participants, all biomarkers, with the exception of galectin-3, were significantly associated with increased risk of incident HF (hazard ratio per SD higher concentration of log-transformed biomarker): NT-proBNP (hazard ratio, 2.07; 95% CI, 1.79-2.39); hsTnT (hazard ratio, 1.38; 95% CI, 1.21-1.56); GDF-15 (hazard ratio, 1.44; 95% CI, 1.26-1.66) and sST2 (hazard ratio, 1.19; 95% CI, 1.05-1.35). Higher NT-proBNP, hsTnT, and GDF-15 were also associated with a greater risk of HF with reduced EF; while higher NT-proBNP GDF-15 and sST2 were associated with HF with preserved EF. Galectin-3 was not associated with either HF with reduced EF or HF with preserved EF. Conclusions In chronic kidney disease, elevations of NT-proBNP, hsTnT, GDF-15, sST2 were associated with incident HF. There was a borderline association of galectin-3 with incident HF. NT-proBNP and hsTnT were more strongly associated with HF with reduced EF, while the associations of the newer biomarkers GDF-15 and sST2 were stronger for HF with preserved EF.

Lymphocyte landscape after chronic hepatitis C virus (HCV) cure: The new normal

Ghosh, Alip; Romani, Sara; Kottilil, Shyam; Poonia, Bhawna (

MDPI AG

,

2020-10-02

)

Chronic HCV (CHC) infection is the only chronic viral infection for which curative treatments have been discovered. These direct acting antiviral (DAA) agents target specific steps in the viral replication cycle with remarkable efficacy and result in sustained virologic response (SVR) or cure in high (>95%) proportions of patients. These treatments became available 6–7 years ago and it is estimated that their real impact on HCV related morbidity, including outcomes such as cirrhosis and hepatocellular carcinoma (HCC), will not be known for the next decade or so. The immune system of a chronically infected patient is severely dysregulated and questions remain regarding the immune system's capacity in limiting liver pathology in a cured individual. Another important consequence of impaired immunity in patients cleared of HCV with DAA will be the inability to generate protective immunity against possible re-infection, necessitating retreatments or developing a prophylactic vaccine. Thus, the impact of viral clearance on restoring immune homeostasis is being investigated by many groups. Among the important questions that need to be answered are how much the immune system normalizes with cure, how long after viral clearance this recalibration occurs, what are the consequences of persisting immune defects for protection from re-infection in vulnerable populations, and does viral clearance reduce liver pathology and the risk of developing hepatocellular carcinoma in individuals cured with these agents. Here, we review the recent literature that describes the defects present in various lymphocyte populations in a CHC patient and their status after viral clearance using DAA treatments.